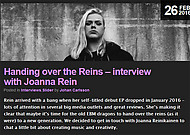 Handing over the Reins – interview with Joanna Rein
Rein arrived with a bang when her self-titled debut EP dropped in January 2016 – lots of attention in several big media outlets and great reviews. She's making it clear that maybe it's time for the old EBM dragons to hand over the reins (as it were) to a new generation. We decided to get in touch with Joanna Reinikainen to chat a little bit about creating music and creativity.
I first heard Rein on The Operating Tracks single and video "Testify", but it was her EP that really caught my eye. Joanna comes from a musical background – her father is Sweden's own italo disco pioneer Paul Rein – but her life could have taken another direction if her student loans hadn't run out.
How do you create a song? Do you have a sound in your head before, or do you just play around seeing how it goes?
- It usually differs, sometimes I have a sound in my head and sometimes I just play with something. Sometimes both. I usually start with a bass line though. I construct the song around the bass, it's the foundation for everything I think. I react to the bass in all kinds of music. After that, I write lyrics based on the feeling I get from the music.
Are all the songs on your EP new, or is there older material on it? How old is the oldest track?
- The majority of the track foundations were laid in spring 2014 and then I worked on them until December 2015. I haven't worked as long on the lyrics though. The oldest song is "Concrete Jungle" which I recorded in the spring of 2015.
Publicerad: 2017-03-08
Läs mer om Release Music Magazine i katalogen
Fler artiklar knutna till Release Music Magazine
Fler tidskrifter i kategori MUSIK