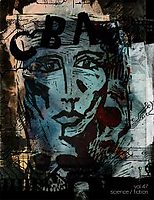 Science/Fiction vol 47
Science and fiction rule our lives. The laws of physics seem set in stone while the laws of man are arbitrary mirrors of the morality o What machineries of death and destruction are we yet to invent in the name of money (which used to be metal and paper but is now to a great extent nothing but speculation and expectations)? What (or who) else meet in the intersection between science fiction and real science? What came first? The egg or the hatching machine?f the times. Gods and spirits are creations of the mind but also the explanation when comprehension fails. What lies beyond our understanding? Is it more science or something else? What dark forces lurk outside our field of vision?
List of artists:

Danijel Žeželj
[HR/US]
Radovan Popović
[RS]
Korina Hunjak
[HR]
Ivana Filipović
[RS/CA]
Avi Heikkinen
[FI]
Francisco Sousa Lobo
[PT]
Oskar Aspman
[SE]
Kinga Dukaj
[SE]
Mattias Elftorp
[SE]
Text & illustration:
Mattias Elftorp
[SE]
Cover artists & main editor:
Mattias Elftorp
[SE].
Publicerad: 2020-06-21
Köp C´est Bon Anthology
Läs mer om C´est Bon Anthology i katalogen
Fler artiklar knutna till C´est Bon Anthology
Fler tidskrifter i kategori SERIER & ANIMATION
Fler tidskrifter i kategori KONST & DESIGN