Anushilon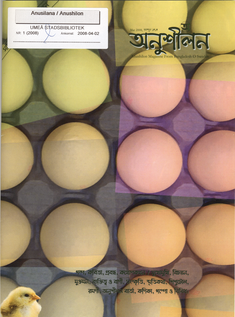 Anushilon är en kulturell och litterär tidskrift, som publiceras av kulturföreningen Monikanchan Shahitya O Shankskriti Anushilon från Umeå.

Since the 70's, engaged to encourage and promote cultural and literary activities.
We publish the only Bangla magazine from northern Sweden, Anushilon. Features interviews, short stories, poetry, novels, articles, book tips, recipe, jokes, Swedish glossary, entertainment reports, and many more.
We also publish Bichitra Anushilon which is a magazine for children where they contribute with their arts, stories, poems and pictures.

Monikanchan Shahitya O Shankskriti Anushilon is a registered cultural organization in Sweden. Our mission is to encourage and promote cultural and literacy practices such as short stories, poetry and novel, and also interviews, traveller's tales, articles about cultural activities, cooking recipe, sports and a variety of topics.

Monikanchan Shahitya O Shankskriti publishes the Bangla cultural and literary magazine Anushilon, which in Bangla means to learn or to practice. Anushilon is a non-political magazine, and therefore we do not publish any material that touches that subject.

Anushilon features all the topics mentioned above, in Bangla and English. The magazine is published quarterly and distributed in several countries in Europe, America, and Asia. We think it is important to involve the young generation in cultural activities. Therefore, one of our issues we solely dedicate to children who contribute with their tales, drawing, poetry, and so on. We have had huge encouragement and support from both children and their parents for this initiative.