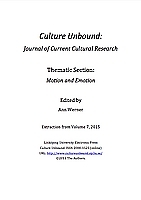 Theme: Cultures of Disasters
New thematic issue from Culture Unbound: '
Cultures of Disaster
'
Culture Unbound: Journal of Current Cultural Research is proud to present a new thematic issue: 'Cultures of Disaster' edited by Anders Ekström and Kyrre Kverndokk. This special issue contains three sections. The first one is called "Disaster Narratives" and in this section several of the papers examine one of the most deeply rooted disaster imaginaries – the apocalypse. The papers discuss how societal and environmental issues are articulated as apocalyptic narratives. The second section "Catastrophizations" contains two papers using disaster optics to study popular and political productions of states of emergencies. The last section, named "Contingency, Resilience and Culture", shows some varieties of what has been called the cultural turn in disaster studies.
Featured articles are:
Introduction
Anders Ekström & Kyrre Kverndokk
Cultures of Disasters
I. Disaster Narratives
Gaia Giulliani
Fears of Disaster and (Post-)Human Raciologies in European Popular Culture, 2001-2013
Jacob Lillemose & Karsten Wind Meyhoff
At the Mercy of Gaia: Deep Ecological Unrest and America's fall as Nature's Nation in Kingdom of the Spiders
Jerry Määttä
Keeping Count of the End of the World
A Statistical Analysis of the Historiography, Canonisation, and Historical Fluctuations of Anglophone Apocalyptic and Post-Apocalyptic Disaster Narratives -
See more at
Katrin Pfeifer
: On the Representation of an Early Modern Dutch storm in Two Poems
II. Catastrophizations
John Ødemark
Avatar in the Amazon – Narratives of Cultural Conversion and Environmental Salvation
Peer Illner
Who's Calling the Emergency? The Black Panthers and the Civilian State of Exception
III. Contingency, Resilience and Culture
Sara Bonati
Multiscalar Narratives of a Disaster: From Media Amplification to Western Participation in Asian Tsunamis
Hamish McLean and Jacqui Ewart
Political Communication in Disasters: A Question of Relationships
Christian Webersik, Jose J Gonzalez, Julie Dugdale, Bjørn Erik Munkvold & Ole-Christoffer Granmo
Towards an Integrated Approach to Emergency Management: Interdisciplinary Challenges for Research and Practice.
Rasmus Dahlberg
Resilience and Complexity: Conjoining the Discourses of Two Contested Concepts.
Download the entire issue free of charge
Culture Unbound: Journal of Current Cultural research is an open access e-journal that seeks to be a forum for contemporary, cutting edge cultural research from a wide range of disciplinary and interdisciplinary areas. We also welcome new article manuscripts in all areas of cultural research, as well as proposals for future theme sections.
Johanna Dahlin
Executive Editor
Culture Unbound
cu@isak.liu.se
Publicerad: 2015-10-30
Köp Culture Unbound
Läs mer om Culture Unbound i katalogen
Fler artiklar knutna till Culture Unbound
Fler tidskrifter i kategori HUMANIORA & SAMHÄLLSVETENSKAP