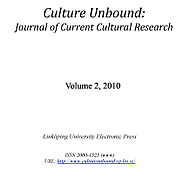 Surveillance...
Thematic sections: Surveillance; Rural Media Spaces, Culture; Work and Emotion; Literary Public Spheres and Uses of the Past - Nordic Historic Cultures in a Comparative Perspective
Johan Fornäs, Martin Fredriksson & Jenny Johannisson
Culture Unbound vol. 2, Editorial
Surveillance
Toby Miller
Surveillance: The "Digital Trail of Breadcrumbs"
Mark Andrejevic
Reading the Surface: Body Language and Surveillance
Jessica J. Behm
Silhouettes of War: Technologies of U.S. Soldiering and Surveillance
Kelly Gates
The Tampa "Smart CCTV" Experiment
Henry Krips
The Politics of the Gaze Foucault, Lacan and Žižek
Tabassum "Ruhi" Khan
Tendencies of Inner Surveillance in Democratic India Challenges of Establishing Native Ethnographer's Identity Among Indian Muslims
Rural Media Spaces
Magnus Andersson & André Jansson
Rural Media Spaces: Communication Geography on New Terrain
Lelia Green
Imagining Rural Audiences in Remote Western Australia
Maria Bakardjieva & Amanda Williams
Super Network on the Prairie: The Discursive Framing of Broadband Connectivity by Policy Planners and Rural Residents in Alberta, Canada
André Jansson
Mediatization, Spatial Coherence and Social Sustainability: The Role of Digital Media Networks in a Swedish Countryside Community
Magnus Andersson
Provincial Globalization: The Local Struggle of PlaceMaking
Michael Woods
Reporting an Unsettled Countryside: The News Media and Rural Protests in Britain
Keith Halfacree
Reading Rural Consumption Practices for Difference: Boltholes, Castles and Liferafts
Other Articles
Martina Ladendorf
Commercialization of Lesbian Identities in Showtime's The L-word
Defne Karaosmanoglu
Nostalgia Spaces of Consumption and Heterotopia: Ramadan Festivities in Istanbul
Culture, Work and Emotion
Can-Seng Ooi & Richard Ek
Culture, Work and Emotion
Hing Ai Yun
Service Workers: Governmentality and Emotion Management
Szilvia Gyimóthy & Louise Rygaard Jonas
Branding on the Shop Floor
Can-Seng Ooi
Cacophony of Voices and Emotions Dialogic of Buying and Selling Art
Johan Hultman & Erika Andersson Cederholm
Bed, Breakfast and Friendship: Intimacy and Distance in Small-Scale Hospitality Businesses
Erika Andersson Cederholm
Effective Emotions The Enactment of a Work Ethic in the Swedish Meeting Industry
Ana María Munar
Digital Exhibitionism The Age of Exposure
Richard Ek
Epilogue Towards an Experience Ecology of Relational Emotions
Literary Public Spheres
Torbjörn Forslid & Anders Ohlsson
Introduction Literary Public Spheres
Patrik Lundell
Participation, Representation and Media System Habermasian Paths to the Past
Emma Eldelin
An Amateur's Raid in a World of Specialists? The Swedish Essay in Contemporary Public Debate
Ann Steiner
Personal Readings and Public Texts Book Blogs and Online Writing about Literature
Karin Sarsenov
The Literature Curriculum in Russia Cultural Nationalism vs. The Cultural Turn
Jon Helgason
Why ABC Matters Lexicography and Literary History
Torbjörn Forslid & Anders Ohlsson
The Author on Stage Björn Ranelid as Performance Artist
Uses of the Past – Nordic Historical Cultures in a Comparative Perspective
Peter Aronsson
Introduction: Uses of the past – Nordic Historical Cultures in a Comparative Perspective
Stuart Burch
Norden, Reframed
Magdalena Hillström
Contested Boundaries: Nation, People and Cultural History Museums in Sweden and Norway 1862–1909
Carl Marklund & Peter Stadius
Acceptance and Conformity: Merging Modernity with Nationalism in the Stockholm Exhibition in 1930
Per Strömberg
Swedish Military Bases of the Cold War: The Making of a New Cultural Heritage
Eglė Rindzevičiūtė
Soviet Lithuanians, Amber and the 'New Balts': Historical Narratives of National and Regional Identities in Lithuanian Museums, 1940–2009
Lizette Gradén
Dressed in a Present from the Past The Transfers and Transformations of a Swedish Bridal Crown in the United States
Anders Houltz
Captives of Narrative: Scandinavian Museum Exhibits and Polar Ambitions
Marzia Varutti
Using Different Pasts in a Similar Way: Museum Representations of National History in Norway and China
Tanja Schult
Whose Raoul Wallenberg is it? The Man and the Myth: Between Memory, History and Popularity
Other Articles
Helene Brembeck & Barbro Johansson
Foodscapes and Children's Bodies
Katherine Giuffre
Half the Right People Network Density and Creativity
Carmen L. McClish
Orange Houses and Tape Babies Temporary and Nebulous Art in Urban Spaces
Läs hela numret.
Publicerad: 2013-11-29
Köp Culture Unbound
Läs mer om Culture Unbound i katalogen
Fler artiklar knutna till Culture Unbound
Fler tidskrifter i kategori HUMANIORA & SAMHÄLLSVETENSKAP