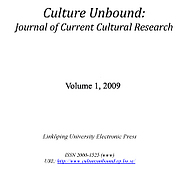 What's the Use of Cultural Research?
Johan Fornäs, Martin Fredriksson & Jenny Johannisson
Culture Unbound Vol. 1 Editorial
Thematic Section: What's the Use of Cultural Research?
Johan Fornäs, Martin Fredriksson & Jenny Johannisson
What's the Use of Cultural Research?: Editorial Theme Introduction
Tom O'Dell
What's the Use of Culture?
Billy Ehn & Orvar Löfgren
Ethnography in the Market Place  
Yudhishthir Raj Isar
Cultural Policy: Towards a Global Survey
Mikko Lehtonen
Spaces and Places of Cultural Studies
Sharon Rider
The Future of the European University: Liberal Democracy or Authoritarian Capitalism?
Murray Dineen
Schoenberg and the Radical Economies of Harmonielehre
Andreas Gunnarsson
The First Swede in Space: The Making of a Public Science Hero
Stefania Kalogeraki
The Divergence Hypothesis in Modernization Theory across Three European Countries: The UK, Sweden and Greece.  
Colin Mercer
Convergence, Creative Industries and Civil Society Towards a New Agenda for Cultural Policy and Cultural Studies
Andreas Henriksson
Digital Media and the Order of Ethnography On Modes of Digitization in the Museum of World Culture
Sheenagh Pietrobruno
Cultural Research and Intangible Heritage
Thematic Section: City of Signs / Signs of the City
Geoff Stahl
Urban Signs/Signs of the Urban: Of Scenes and Streetscapes
Luc Pauwels
Street Discourse: A Visual Essay on Urban Signification  
Christopher Kelen
Going Begging: Casino Culture and Its Contrasts as Revealed in the New Macao Poetry  
Sophie Esmann Andersen & Anne Ellerup Nielsen
The City at Stake: 'Stakeholder Mapping' the City
Christoph Jacke
Locating Intermediality: Socialization by Communication and Consumption
in the PopularCultural Third Places of the Music Club and Football Stadium
Jason Wasiak
BeingintheCity: A Phenomenological Approach to Technological Experience
Martin Zeilinger
'Quit Stalling…!': Destiny and Destination on L.A.'s Inner City Roads
Yasmin Ibrahim
City Under Siege: Narrating Mumbai Through NonStop Capture
Zlatan Krajina
Exploring Urban Screens  
Agata Lisiak
Disposable and Usable Pasts in Central European Cities
Megan Hicks
City of Epitaphs
Other Articles
Willmar Sauter
Bloomsday: James Joyce's Ulysses Celebrated as Theatrical Event
Idit Alphandary
Radical Hope or the Moral Imperative of Images in the Work of Susan Sontag and JeanLuc Godard
Reviews
Gösta Arvastson
Anne Scott Sørensen, Ole Martin Høystad, Erling Bjurström and Halvard Vike Nye kulturstudier - En innføring
Arne Ruth
Svante Beckman and Sten Månsson (ed.) Kultursverige 2009 Problemanalys och Kulturstatistik
Läs hela numret.
Publicerad: 2013-11-28
Köp Culture Unbound
Läs mer om Culture Unbound i katalogen
Fler artiklar knutna till Culture Unbound
Fler tidskrifter i kategori HUMANIORA & SAMHÄLLSVETENSKAP