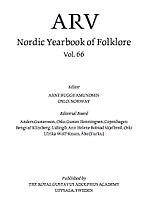 Memory and Culture
Ur introduktionen "In various forms, the perspective of memory has held a central position in many areas of cultural-historical research since the beginning of the twentieth century. This perspective is, however, part of a long and complex tradition. The theme of this issue of Arv is also memory, but in this yearbook, the focus is slightly shifted in relation to the earlier research interest in the collective, or the supra-individual memory".
Memory Stored and Reactivated – Some Introductory Reflections
Henning Laugerud
The Tears of Odysseus. Memory and Visual Culture in Ancient Greece
Jørgen Bakke
To See With Eyes of the Soul. Memory and Visual Culture in Medieval Europe
Henning Laugerud
Founding Narratives and the Representation of Memory in Saga
Pernille Hermann
Timing Memories, Spacing Time – the Art of Memory and the Denial of Coevalness in Vico's Scienza Nova
John Ødemark
Churches and the Culture of Memory. A Study of Lutheran Church Interiors in Østfold, 1537–1700
Arne Bugge Amundsen
Memorial, Sentiment and Exemplarity
Anne Eriksen
Memory, Meaning and Presence
Mads Thomsen Rosendahl
Places of Literary Memory. Undset's Life and Literature in Narratives of Place
Torunn Selberg
The Flexible Space: Finland-Swedish Descendants in North America
Suzanne Österlund-Pötzsch
ARV 2010
finns fritt tillgänglig som pdf liksom tidigare årgångar på
www.kgaa.nu
.
Innehållet årgångarna 2011 & 2012 går att läsa om och beställa på
www.kgaa.nu
.
Publicerad: 2013-12-01
Köp ARV. Nordic Yearbook of Folklore
Läs mer om ARV. Nordic Yearbook of Folklore i katalogen
Fler artiklar knutna till ARV. Nordic Yearbook of Folklore
Fler tidskrifter i kategori HISTORIA