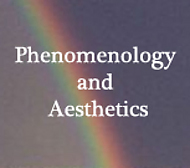 Phenomenology and Aesthetics
SITE
, tidskriften om samtida konst, arkitektur, film och filosofi annonserar på facebook om evenemanget "Phenomenology and Aesthetics". Seminariet pågår i två dagar med start den 29 augusti.
Aesthetics has from the outset been a central concern in the phenomenological tradition, although not always as a specific discipline. The broad concepts of sense, intuition, and experience that set early phenomenology apart from its rival sibling analytical philosophy gave rise to a long tradition of reflections on the arts, which could be integrated into ontological and epistemological investigations, and artworks in many cases became partners in a conversation that aspired to a questioning of the discourse of philosophy itself

Today phenomenology begins to reflect not only on its own history and genealogy, but also to question itself in relation to other philosophical traditions and concerns, which in the case of aesthetics means to interrogate the relation to contemporary forms of artistic practice, the legacy of modernism, and political issues of identity and otherness. Addressing questions of the possibilities as well as limits of the phenomenological tradition, the symposium will investigate some of the key problems facing contemporary aesthetics.
Var: Södertörn University, PA 124
När: August 29-30
Program
Thursday August 29
15.00 – Welcome address
15.15 – Günther Figal: "Aesthetics of Simplicity"
17.00 – Reception at the department
Friday August 30
10.00 – Sven-Olov Wallenstein: "Phenomenology, Discourse and the Figure: On Jean-François Lyotard's Early Work"
11.00 – Marcia Sá Cavalcante: "On Enthusiasm"
12.00 – Lunch
13.00 – Cecilia Sjöholm: "Arendt and Kafka; Narrative as thought-event"
14.00 – Coffee
14.30 – Nicholas Smith: "Phenomenology as Transcendental Aesthetics: How Postcolonial Feminism, Big Daddy Kane and Bernard-Marie Koltès can help to reconfigure the world"
15.30 – Concluding discussion
Publicerad: 2013-08-16
Köp Site
Läs mer om Site i katalogen
Fler artiklar knutna till Site
Fler tidskrifter i kategori KONST & DESIGN
Fler tidskrifter i kategori FILOSOFI & PSYKOLOGI