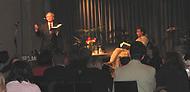 Bravo Ars Interpres
Impressions on Ars Interpres Poetry Festival, at Cultural House
When I walked into the Swedish Cutural House on Friday, 6th of October 2006, seasons have changed, the violent summer had already cast away its bikini and the Autumn was catwalking wearing brown, orange and yellow colours. The Swedish Cultural House was as desolate as a parking lot and the clanking of its escalator was as old as hills. The bar was half full, the sound of glasses clinking and the chatter cheered me.
I knew it was an International Poetry Festival, the poets were reciting in their own languages. I have no knowledge of Russian, Lithuanian or other languages, although translators were reading out in English or Swedish, I decided to close my eyes and concentrated on listening to the poets reciting in their own languages. This was very rewarding. It may be the translations were excellent but I thought it was impossible for me to get the real essence in such a short period of time and surely it would hardly do any justice to their original works. Besides, I never believed the purpose of poetry is to make us perceive meaning but to create a special sensibility of sound-objects.
So I let myself carried away by sound-images, and experienced the sound waves. The poets like Tomas Venclova, Aleksandr Kushner and Ilya Bernstein articulated so well the rhythm of sound-images drove me to unknown shores, poems were sonatas, music led recreating further images. It was like dropping a stone in a calm lake, ripples went on growing and growing; colours, smell and touch kept on recreating new perceptions and shifting scenes. The sound of spoken words surpass everything, not even such famous, mollycoddled film directors, like Bergman, Fellini etc could ever achieve such sensual and creative effects by using multimedia and floodlights of technology, save overburdening and destroying our own creative faculties. Human beings cannot shield against such bombardments from hyper reality.
Vive la poésie!
Then came Giannina Braschi on the stage, her arms gesticulating, voice rose, at times hitting the ceiling. I loved her defiance and provocation.
We all know the idea of integration is both politically correct and a permanent mantra of all political parties. It is nothing but cunningly appropriating the body of immigrants. Why should the majority have the God-given right to exercise total control of the minorities? Because it is profitable. The process of integration leads to disintegration and the total loss of inheritance. Do we want to exist in a Corporate village?
Bravo Ars Interpres . More poetry!
Dipak Mazumdar
Photograph by Gosia Stepien: Aleksandr Kushner and Ilya Bernstein
Publicerad: 2006-10-22
Läs mer om Ars Interpres (Nedlagd) i katalogen
Fler artiklar knutna till Ars Interpres (Nedlagd)
Fler tidskrifter i kategori NEDLAGDA