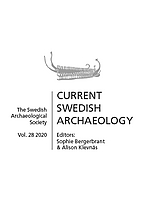 THEME: Relations between humans and non-human animals
Läs om Current Swedish Archaeology Vol. 28 2020 på deras hemsida.
Editorial
Introduction: Human-Animal Relationships From a Long-Term Perspective
Kristin Armstrong Oma & Joakim Goldhahn
For the second year running, Current Swedish Archaeology begins with a themed group of research papers which provide a variety of perspectives on a shared topic. This year we present seven peer-reviewed contributions exploring a theme of human-animal relations, based on a workshop held in Kalmar in late 2018. Kristin Armstrong Oma and Joakim Goldhahn provide an introduction to the topic and each individual paper, showing how a focus on relations between humans and non-human animals within archaeological contexts possesses great potential to bring different kinds of archaeologies together. The theme includes papers presenting the results from natural science-based analyses, image-based research, studies of depositional rituals, and discussions arising from personal experience, making for a lively and varied collection. For 2021 we intend... (från de inledande orden vol 28 CSA 2020)
THEME
Tracing the Materiality of Feathers in Stone Age North-Eastern Europe
Kristiina Mannermaa & Tuija Kirkinen
To Bring Back Some Eagleness to Eagles. On Bird Worldings in the Bronze Age
Joakim Goldhahn
Horses, Fish and Humans. Interspecies Relationships in the Nordic Bronze Age
Jacob Kveiborg, Laura Ahlqvist & Helle Vandkilde
On the Fringe. Sheepdogs and Their Status Within Bronze Age Ontologies in Scandinavia
Kristin Armstrong Oma
Scenes of Human Control of Reindeer in the Alta Rock Art. An Event of Early Domestication in the Far North?
Ingrid Fuglestvedt
Retrieving, Curating and Depositing Skulls at Pitted Ware Culture Sites
Tobias Lindström
Ritual Slaughter Through the Eyes of the Butcher. Perspectives on a Complex Practice
Bettina Stolle
ARTICLES
Ritualized Mesolithic Hoarding in Southern Scandinavia. An Under-Recognised Phenomenon
Mathias Bjørnevad-Ahlqvist
A Treasured Persona. Re-Interpreting the Eketorp Precious Metal Deposition
Nanouschka M. Burström
Making Heritage. A Case Study on the Impact of Contract Archaeology on Museum Collecting in Sweden
Vivian Smits
REVIEW & NOTICES
Joakim Goldhahn -
Birds in the Bronze Age: A North European Perspective
Review by
Richard Bradley
Neil Price -
The Viking Way: Magic and Mind in Late Iron Age Scandinavia
Review by
Colleen Batey
Alexandra Pesch & Michaela Helmbrecht (eds) -
Gold Foil Figures in Focus: A Scandinavian Find Group and Related Objects and Images from Ancient and Medieval Europe
Review by
Neil Price
Recent Excavations at Slussen in Stockholm
Kenneth Svensson
Crossroads – Archaeology Before and After #excavationinprogresse
Ingrid Berg & Sophie Bergerbrant
Publicerad: 2021-02-01
Köp Current Swedish Archaeology
Läs mer om Current Swedish Archaeology i katalogen
Fler artiklar knutna till Current Swedish Archaeology
Fler tidskrifter i kategori ARKEOLOGI
Fler tidskrifter i kategori HISTORIA