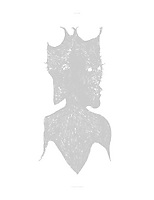 In the pits of madness
Let's plunge together into the pits of madness. Let's watch the dissolution of reality, let's dance with clear heads and see where it takes us. Let's travel the river hiding in the desert sands until the wind rises and we reach the final collapse. Let's look deep into the eye of the tiger. And see afterwards if we dare to dream.

Horror meets madness and the inevitable collapse in this new volume of CBA, beautifully drawn and painted in heavy brush strokes and oil paint and sharp lines and halftones. With a cover illustration printed only in spot gloss varnish.
Artists:
Akab
[IT]
Spyros Verykios
[GR]
Elena Guidoli
n [IT
Serena Schinaia
[IT]
Radovan Popović
[RS] (cover)
Mattias Elftorp
[SE] (text & main editor)
This volume of CBA was made possible by our lovely crowdfunders (Indiegogo):
Ola Hellsten
Nicolas Krizan
Natalia Batista
[anonymous]
Segal Hassan Mohamed
Eileen Laurie
Anna Ehrlemark
Rakel Stammer
[anonymous]
Ajon Kibreab
Morgan Löfstedt
Emma Elftorp
nicolau giglio neves da silva
David Lasky
Daniel Novakovic
Claudiu Revnic
pogono
[anonymous]
Klas Eliasson
Åsa Palmborg
[anonymous]
[anonymous]
Paul van Dijken
Patrik Schylström
Ytterligare information här plus en liten trailer.
Publicerad: 2017-12-21
Köp C´est Bon Anthology
Läs mer om C´est Bon Anthology i katalogen
Fler artiklar knutna till C´est Bon Anthology
Fler tidskrifter i kategori SERIER & ANIMATION
Fler tidskrifter i kategori KONST & DESIGN