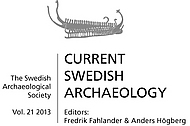 Innehåll nr 21
Läs #21 2013, open access
.
Archaeology vs. Archaeological Science: Do We Have a Case?
by Kerstin Lidén & Gunilla Eriksson
Archaeological Science: Despair, Education and Celebration?
by Andrew Meirion Jones
Science and Prehistory: Are We Mature Enough to Handle It?
by Åsa M. Larsson
Kossinna, Childe and aDNA: Comments on the Construction of Identities
by Johannes Müller
Archaeology vs. Science: Or Taking Knowledge-Based Communication Seriously?
by Christopher Prescott
Challenge and Response: The Social Nature of the Discipline of Archaeology
by Stephen Shennan
Response to Comments: Archaeology vs. Archaeological Science
by Kerstin Lidén & Gunilla Eriksson
Posthumanism, the Transcorporeal and Biomolecular Archaeology
by Christina Fredengren
The Indian Behind the Artefact or Things Behind the Process? Humanism, Post-Humanism and the Transition to the Neolithic
by Irene Garcia-Rovira
Harm's Way: An Approach to Change and Continuity in Prehistoric Combat
by Christian Horn
From Vínland to Jerusalem in the Beatus Galaxy: The Impact of Maps on the European Mentality in the 11th Century
by Leif Gren
The Mask(s) and Transformers of Historical Re-Enactment: Material Culture and Contemporary Vikings
by Dawid Kobiałka
Johanna Bergqvist - Läkare och läkande: Läkekonstens professionalisering i Sverige under medeltid och renässans
by Review by David Dunér
Academic Publishing in Sweden Threatened by Withdrawal of Support
by Anders Högberg
Publicerad: 2013-05-25
Köp Current Swedish Archaeology
Läs mer om Current Swedish Archaeology i katalogen
Fler artiklar knutna till Current Swedish Archaeology
Fler tidskrifter i kategori ARKEOLOGI
Fler tidskrifter i kategori HISTORIA