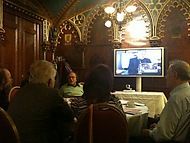 A Day of Poetry
A Day of Poetry as seen by the program moderator
On Saturday, 30 October 2010, three groups of poets gathered in their respective countries, Sweden, Cyprus and Greece, for an international poetry reading. Though physically far apart, the poets were nevertheless able to read their works to one another via a large screen set up in "The Red Room" in Berns Salonger in Stockholm and a similar screen in Café Floral in Athens.
In this way it was possible for seven poets living and working in Sweden to read their works alternately with their seven Greek colleagues in Athens. Though illness had caused absences in both groups, poetry in Sweden was well represented by Per Wästberg, Gunnar Harding and Petter Lindgren, by Dipak Mazumdar who writes in English, and by two younger poets, Malte Persson and Elisabeth Hjorth.
This was the sixth and final event in a series of inter-European poetry encounters under the aegis of the European Commission for Culture, and carried out with the cooperation of local sponsors. This Day of Poetry programme was originally intended to bring together poets situated in four countries who would read their works before the cameras in Nicosia on Cyprus, in Paris, in Athens and in Stockholm. Owing to regrettable last-minute technical problems, Paris and Nicosia were unable to participate. Though reduced in size and scope, the Greece-Sweden encounter went forward according to schedule with the assistance of two moderators, Dinos Siotis in Athens and the undersigned in Stockholm. The poets read, or in some cases recited, their works not only in their native Greek or Swedish. A number also read English translations of certain of their poems, thereby further enhancing the level of communication.
A pattern appears to be emerging whereby poets and other persons from the international cultural scene can meet on-screen, as it were, with the aid of cameras, satellites and, one hopes, improved technology. Athens and Stockholm were challenged, at very short notice, to produce a Swedish-Greek
Day of Poetry.
The tone was informal, direct, friendly. The result was definitely stimulating. It remains to be seen if this might be a sign of things to come.
Ardis Grosjean Dreisbach
Swedish program moderator
A Day of Poetry as seen by a participating poet
On the 30 October 2010 several Swedish poets were invited to read their poems in the Red Room (
Röda Rummet
) at Berns Salonger in Stockholm. I was ignorant of the history of this room where August Strindberg passed innumerable hours writing his famous fictional work "Röda Rummet" sometime at the end of the 19th century. It was an epoch-making work in Swedish literature, and later the room was named after Strindberg's book. Per Wästberg, the Chairman of the Nobel Committee, told me this story and even emphasised that all well-known Swedish poets read their poems here.
The room itself was rather extraordinary, small, dimly lit, one side fitted with coloured glass windows which filtered the light, almost like a chapel. The atmosphere was sombre, but I think in old days there were logs burning in the fire place creating a warm and jovial feeling.
That morning seven poets gingerly gathered at 11, an unusual time for reading poems – I suppose we should call it "Breakfast Poetry". There were coffee, tea and buns on the side table to warm our throats, fill our bellies. Conversations were very low key, a few words of greeting mumbled shyly. In front of us was a big video screen, and we anxiously waited to be connected to Athens and Cyprus by Hellas Satellite, so that poets from three different countries could recite their poems alternatively. This was the original idea, and titled as "A Day of Poetry".
This small dimly lighted room had a surreal aura. Think, all the poets sat curiously in a semi-circle, books and coffee cups on the table, in front was the large screen where there was no football match but weird shadows flitting about. There were plenty of technical hitches in the beginning. Communication was incommunicable. After a while our moderator, an extremely able lady could speak to Athens. We saw the Café Floral and a few faces bobbing up and down from the other side of Europe. At last the reading began. We got 7 or 8 minutes to read our poems. A number of the Swedish and Greek poets read English versions of their poems English. The reading came to an end with a speech by the Greek moderator reminding us of the great cultural heritage of Greece, the land of Homer, where poetry is still very much alive. Would that we could say the same of Sweden.
Publicerad: 2010-12-14
Läs mer om Ars Interpres (Nedlagd) i katalogen
Fler artiklar knutna till Ars Interpres (Nedlagd)
Fler tidskrifter i kategori NEDLAGDA