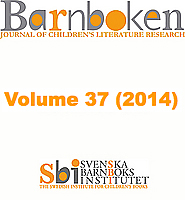 Barnboken - volym 37 (2014)
UR INNEHÅLLSFÖRTECKNINGEN
Introduktion Maria Österlund
Tema:
Förgrömmade unge! Det oregerliga barnet
Escaping institutionality: rebellion and gendered space in Eric, or Little by Little and A Little Princess
Soyoun Kim
Goldie Roth unchained: risk and its management in Lian Tanner's Museum of Thieves
Danielle Wood
Unruly Girls and Unruly Language: Typography and Play in David Almond's My Name is Mina.
Eve Tandoi
Lekens alternativa geografi. Om Zacharias Topelius bidrag i Eos på 1850-talet
Olle Widhe
Tema:
2014: 100-årsjubileernas år
Alf Prøysens Teskedsgumma i tantforskningsperspektiv
Maria Lassén-Seger
"Og så stansa jeg litt, og så tenkte jeg". Fascinasjon og tenkning i møte med moderne maskiner i Alf Prøysens "Mot nye tider"
Hans Kristian Rustad
Alf Prøysens fortellinger om teskjekjerringa som en "uferdig estetikk"
Anne Skaret
"Gud, nu har jag bara dig" Teologiska, berättartekniska och retoriska aspekter av barnets närhet till Gud i Britt G. Hallqvists diktning
Helena Bodin
"Hell, what a chance to have a go at the classics": Tove Jansson's take on Alice's Adventures in Wonderland, The Hunting of the Snark, and The Hobbit
Olga Holownia
"En hobbit och ett mumintroll skulle kunna mötas i bästa sämja": Receptionen av Bilbo, en hobbits äventyr (1962)
Björn Sundmark
Teskedsgumman – en publikationshistoria på tre språk
Björn Sundmark
Övriga artiklar
Den orättvisaste orättvisan. Heroism och alternativ maskulinitet i Hans Erik Engqvists ungdomsroman Tredagarskriget
Olle Widhe
Make Yourself At Home! Adolescents in Search of the Queer Spaces of Home
Lydia Kokkola
Re-writing the Script: Representations of Transgender Creativity in Contemporary Young Adult Fiction and Television
Kate Norbury
Irregular Readers. Arthur Conan Doyle's "six dirty scoundrels", Boyhood and Literacy in Contemporary Sherlockian Children's Literature
Erica Hateley
Recensioner
Elina Druker, Eva Billow. Bilderbokskonstnär och författare
Nina Christensen
Alice Curry, Environmental Crisis in Young Adult Fiction. A Poetics of Earth.
Pia Maria Ahlbäck
Kerry Mallan, Secrets, lies and children's fiction
Sanna Lehtonen
Zoe Jaques, Eugene Giddens Lewis Carroll's Alice in Wonderland and Through the Looking-Glass: A Publishing History
Björn Sundmark
Gerda Helena Lindskog, Norrbarn. Norrland i 1900-talets svenskspråkiga barn- och ungdomslitteratur
Ulf Boëthius
Andrew O'Malley Children's Literature, Popular Culture, and Robinson Crusoe
Björn Sundmark
Yvonne Pålsson I Skinnstrumpas spår Svenska barn- och ungdomsböcker om indianer, 1860-2008
Ulf Boëthius
Lisa Sainsbury Ethics in Children's Literature Unexamined Life
Johan Dahlbeck
Maria Nikolajeva Reading for Learning: Cognitive Approaches to Children's Literature
Roberta Trites
Eva Söderberg, Mia Österlund och Bodil Formark (red.) Flicktion Perspektiv på flickan i fiktionen
Anna Nordenstam
Karen J. Renner The 'Evil Child' in Literature, Film and Popular Culture
Per Israelson
Läs hela Barnboken - volym 37
Publicerad: 2014-08-08
Köp Barnboken - tidskrift för barnlitteraturforskning
Läs mer om Barnboken - tidskrift för barnlitteraturforskning i katalogen
Fler artiklar knutna till Barnboken - tidskrift för barnlitteraturforskning
Fler tidskrifter i kategori LITTERATUR
Fler tidskrifter i kategori OM BARN & UNGDOM