Artist-run Art Magazine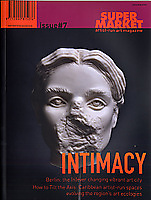 A reversible, two-in-one journal that rolls an art magazine and an exhibition guide into one. Supermarket Art Magazine reflects the drive and ideas of today's artist-run art scene. This annual is released at Sweden's largest art fair "Supermarket – Stockholm Independent Art Fair.

Supermarket picks up the fast-moving, creative subculture in the international art scene. It's unique, surprising and food for thought. Supermarket is a 4-colour, internationally distributed magazine in English, characterised by vibrant freeform graphic design.



Utgivare Supermarket Art Fair ek. för.

Tel +46 70 945 17 24
E-post, red pontus@supermarketartfair.com
Tel +44 (0) 2392 787970
E-post, pren ad@supermarketartfair.com
Antal nummer per år 1
Prenumerationspris 90 kr
Finns att köpa International distribution: PineApple Media/SH Circulation Selected resellers: London: Magma, Harrods, Selfridges, Serpentine Gallery; Paris: Lazy Dog, Collette, WH Smith, Palais De Tokyo; Berlin: Do You Read Me; New York: Universal News, Hudson News, Magazine Cafe; Brussels: IMS; Amsterdam: Athenaeum; Stockholm: Papercut; Milan: Mondadori, Edicola, Kiosk San Babila, Largo Treves; Japan: Logos Shibuya, Bookfirst Ginza, Tsutaya Tokyo Roppongi, Athens Osaka; Australia: Borders, Mag Nation

Hemsida www.supermarketartfair.com
ISSN 2000-8155
Annonsprisbild:
Annonsering: info@supermarketartfair.com

Läs artiklar knutna till Artist-run Art Magazine
Fler tidskrifter i kategori KONST & DESIGN

Fler tidskrifter i kategori DANS, FILM, TEATER & UTSTÄLLNINGAR

Köp denna tidskrift

Sök bland artiklar från denna tidskrift
Senast ändrad: 2015-07-05